"Train to Paris" video campaign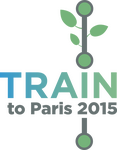 The "Train to Paris" coordination team is happy to announce the launch of the video promoting the campaign!
This short video using flat design presents in a colourful and fun way how railways can be considered as one of the backbones to fight climate change. Developed in the frame of COP21, the video also displays the commitments of UIC and its members in favour of a more sustainable future as the Climate Summit is now getting closer!
Enjoy viewing this video!
For more information on this campaign or if you would like to publish information about the campaign internally or externally in dedicated newsletters, board magazines, etc. please contact Marie-Luz Philippe, Event Coordinator: philippe at uic.org
Follow us:
Train to Paris website: http://traintoparis.org/
Twitter: @trainCOP21
Instagram: @traintocop21
Facebook: Train to Paris
UIC: www.uic.org
View online : http://uic.org/com/uic-e-news/463/a...